Botanic Garden Profile: The National Botanic Garden of Wales at 20
Will Ritchie

National Botanic Garden of Wales
Keywords:
Botanic Garden, Wales, Profile, Living Collections, Glasshouse, Meditteranean
Abstract
The National Botanic Garden of Wales celebrated its 20th anniversary in 2020 with many achievements and challenges for staff, volunteers and stakeholders to reflect upon. An ambitious project since its inception, the Botanic Garden has grown from humble beginnings into an established national institution in its first two decades, with the tireless efforts of many helping it to flourish. Early proponents of the idea did much to foster others' support, and what started as a vision shared between a small group of enthusiasts became a Millennium Commission funded project in 1996. Since opening to the public in 2000, much work has been done to create the gardens, infrastructure and teams necessary to pursue the Botanic Garden's mission. In a climate of increasing biodiversity loss and environmental degradation, science, horticulture and education programmes have been developed which continue to make tangible contributions to the study, conservation and interpretation of plant diversity in Wales and beyond. With 568 acres (230 ha) to develop further still and world-class facilities such as the Great Glasshouse, the Botanic Garden aims to play an important role in research, conservation, education and public engagement for many years to come.
References
BONVOISIN, S. (2016). Parkland Conservation Management Plan. Nicholas Pearson Partnership LLP, Tiverton.
BROADMEADOW, M., RAY, D. & SAMUEL, C. (2005). Climate change and the future for broadleaved tree species in Britain. Forestry: An International Journal of Forest Research, 78(2): 145–161, doi: 10.1093/forestry/cpi014.
CLIMATE-DATA (2020). Climate data for the National Botanic Garden of Wales. Available online: https://en.climate-data.org/europe/unitedkingdom/wales/carmarthen-6749 (accessed August 2020).
COMPANIES HOUSE (1994). Certification of incorporation of a private limited company, Middleton Botanic Garden. Companies House, Cardiff.
DE VERE, N. (2020). Strategic Plan for Science at the National Botanic Garden of Wales. National Botanic Garden of Wales, Llanarthne.
DE VERE, N.D., RICH, T.C., FORD, C.R., TRINDER, S.A., LONG, C., MOORE, C.W., SATTERTHWAITE,
D., DAVIES, H., ALLAINGUILLAUME, J., RONCA, S., TATARINOVA, T., GARBETT, H., WALKER, K.
& WILKINSON, M.J. (2012). DNA barcoding the native flowering plants and conifers of Wales. PLoSONE, 7(6), doi: 10.1371/journal.pone.0037945.
DINES, T. (2008). A vascular plant red data list for Wales – Rhestr o blanhigion fasgwlaidd data coch ar gyfer Cymru. Plantlife International, Salisbury.
EDWARDS, D. & SPEARS, P. (2011). Flowering plant families at the National Botanic Garden of Wales: based on the classification system of the Angiosperm Phylogeny Group. First Publishing, London.
GRATZFELD, J. (ED.) (2016). From Idea to Realisation – BGCI's Manual on Planning, Developing and Managing Botanic Gardens. Botanic Gardens Conservation International, Richmond.
JØRGENSEN, S.E. (2009). Ecosystem Ecology. Elsevier B.V., Amsterdam.
KAY, Q.O.N. (1995). Plant collections at the National Botanic Garden of Wales; overall objectives (report). National Botanic Garden of Wales, Llanarthne.
MAUNDER, M. (1990a). Notes on botanic garden function for the Middleton Steering Group (report). Royal Botanic Gardens, Kew.
MAUNDER, M. (1990b). The National Botanic Garden for Wales: A botanic garden for the 21st century (report). Royal Botanic Gardens, Kew.
PRANCE, G.T. (1989a). Letter to E.L. Rothschild, 26 October.
PRANCE, G.T. (1989b). Letter to W.P. Wilkins, 28 October.
ROYAL BOTANIC GARDENS, KEW (2016). The State of the World's Plants 2016 (report). Royal Botanic Gardens, Kew.
SCLATER, A. & CLARKE, G. (2000). The National Botanic Garden of Wales. London: HarperCollins Illustrated.
THE NATIONAL ARCHIVES (2020). Well-being of Future Generations (Wales) Act 2015. The National Assembly for Wales (now Senedd Cymru – Welsh Parliament).
WILKINS, W.P. (1998). Letter to C. Stirton, 19 May.
WYSE JACKSON, P.S. (1999). Experimentation on a large scale – an analysis of the holdings and resources of botanic gardens. Botanic Gardens Conservation News, 3(3): 27–30.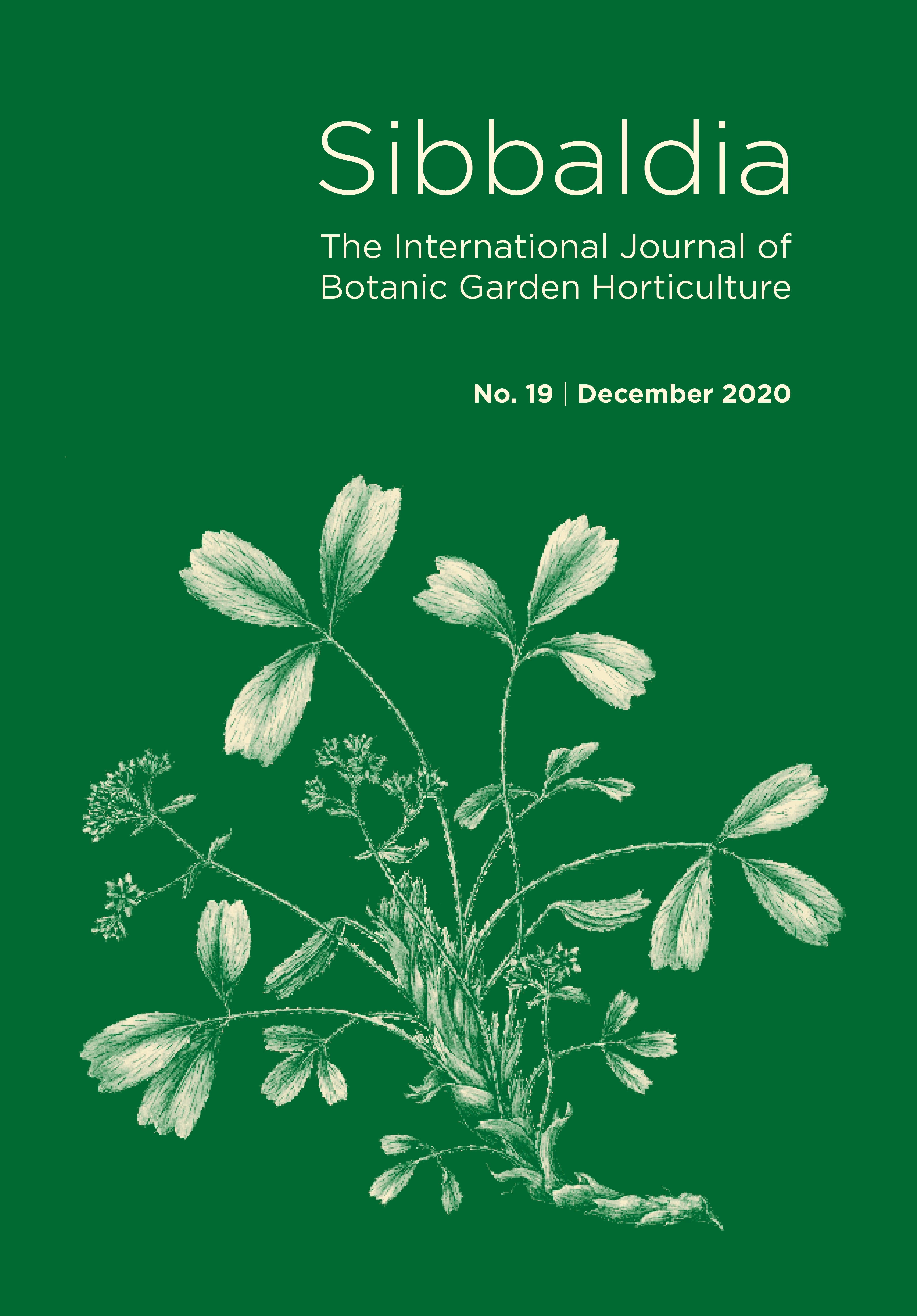 How to Cite
Ritchie, W. (2021). Botanic Garden Profile: The National Botanic Garden of Wales at 20. Sibbaldia: The International Journal of Botanic Garden Horticulture, (19). https://doi.org/10.24823/Sibbaldia.2020.305