Recreation of the Edinburgh Potato Solanum × edinense Berthault
A historically and economically important potato hybrid
Diego Sanchez-Ganfornina

Jan Tapson

Liz Sutherland

Max Coleman

Royal Botanic Garden Edinburgh
Keywords:
Solanum, Solanaceae, late blight, Phytophthora infestans, crop wild relative, food security, hybridisation
Abstract
Solanum × edinense Berthault is a spontaneously occurring hybrid between S. demissum Lindl. and the cultivated potato, S. tuberosum L., found near potato fields in Mexico. Although not described until 1911, this hybrid was in cultivation at the Royal Botanic Garden Edinburgh (RBGE) shortly after the Irish Potato Famine of 1845–1849 and proved to be highly resistant to late blight, Phytophthora infestans. In the mid-19th century late blight caused widespread failure of the potato crop across Europe and played a central role in the Irish Potato Famine. Using the parent species in controlled crosses we have recreated the hybrid that was named by Berthault in recognition of RBGE as the source of his plant material. We have also researched the early history of this hybrid potato in Edinburgh and demonstrated disease resistance through field exposure during the outbreak of late blight in Edinburgh in 2019. This work underlines the important role of this hybrid in the breeding of disease-resistant potato cultivars.
References
AKINO, S., TAKEMOTO, D. & HOSAKA, K. (2014).
Phytophthora infestans: a review of past and current studies on potato late blight. Journal of General Plant Pathology, 80: 24–37.
BERTHAULT, P. (1911). Recherches botaniques sur les variétés cultivées du Solanum tuberosum et les
espèces sauvages de Solanum tubérifères voisins. Thèses présentées à la Faculté des Sciences de Paris pour obtenir le grade de docteur ès sciences naturelles. Imprimerie Berger-Levrault, Nancy.
BOMBLIES, K. & WEIGEL, D. (2007). Hybrid necrosis: autoimmunity as a potential gene-flow
barrier in plant species. Nature Reviews Genetics, 8: 382–393.
CHEN, X., LEWANDOWSKA, D., ARMSTRONG, M.R., BAKER, K., LIM, T-Y., BAYER, M., HARROWER, B., MCLEAN, K., JUPE, F., WITEK, K., LEES, A.K., JONES, J.D., BRYAN, G.J. & HEIN, I. (2018). Identification and rapid mapping of a gene conferring broad-spectrum late blight resistance in the diploid potato species Solanum verrucosum
through DNA capture technologies. Theoretical and Applied Genetics, 131: 1287–1297.
GLENDINNING, D.R. (1983). Potato introductions and breeding up to the early 20th century. New Phytologist, 94: 479–505.
HIRSCH, C.N., HIRSCH, C.D., FELCHER, K., COOMBS, J., ZARKA, D., VANDEYNZE, A., DE JONG, W., VEILLEUX, R.E., JANSKY, S., BETHKE, P., DOUCHES, D.S. & BUEL, C.R. (2013). Retrospective view of North American potato (Solanum tuberosum L.) breeding in the 20th and 21st centuries. Genes, Genomes, Genetics, 3(6): 1003–1013.
JANSKY, S. & PELOQUIN, S. (2006). Advantages of wild diploid Solanum species over cultivated diploid relatives in potato breeding programs. Genetic Resources and Crop Evolution, 53: 669–674.
KING, M.J. & BUCHMANN, S.L. (1996). Sonication dispensing of pollen from Solanum laciniatum flowers. Functional Ecology, 10(4): 449–456.
LINDLEY, J. (1848). Notes on the wild potato. Journal of the Horticultural Society of London, 3: 65–72.
READER, J. (2009). The Untold History of the Potato. Vintage, London.
ROSS, H. (1979). Wild species and primitive cultivars as ancestors of potato varieties. In: Proceedings of the Conference: Broadening the Genetic Base of Crops. Wageningen, Netherlands, 3–7 July 1978. Pudoc, Wageningen, pp. 237–245.
SALAMAN, R.N. (1985). The History and Social Influence of the Potato. Cambridge University Press, Cambridge.
SANETOMO, R. & GEBHARDT, C. (2015). Cytoplasmic genome types of European potatoes and their effects on complex agronomic traits. BMC Plant Biology, 15: 162.
SÄRKINEN, T., POCZAI, P., BARBOZA, G.E., VAN DER WEERDEN, G.M., BADEN, M. & KNAPP, S. (2018). A revision of the Old World black nightshades (Morelloid clade of Solanum L., Solanaceae). PhytoKeys, 106: 1–223.
SEEKAMP, G. & FEIRITEAR, P. (2008). The Irish Famine. Pixie Books, Dublin.
SPOONER, D.M., VAN DEN BERG, R.G., RODRÍGUEZ, A., BAMBERG, J., HIJMANS, R.J. & CABRERA, S.I.L. (2004). Wild potatoes (Solanum section Petota; Solanaceae) of North and Central America. Systematic Botany Monographs, 68: 1–209.
SUTTON, A.W. (1896). Potatoes. Journal of the Royal Horticultural Society, 19(3): 387–430.
SUTTON, A.W. (1908). Notes on some wild forms and species of tuber-bearing solanums. The Journal of the Linnean Society. Botany, 38: 446–453.
UGENT, D. (1967). Morphological variation in Solanum × edinense, a hybrid of the common
potato. Evolution, 21(4): 696–712.
WHITSON, W. (2019). Cultivariable website. Available online: https://www.cultivariable.com
(accessed August 2019).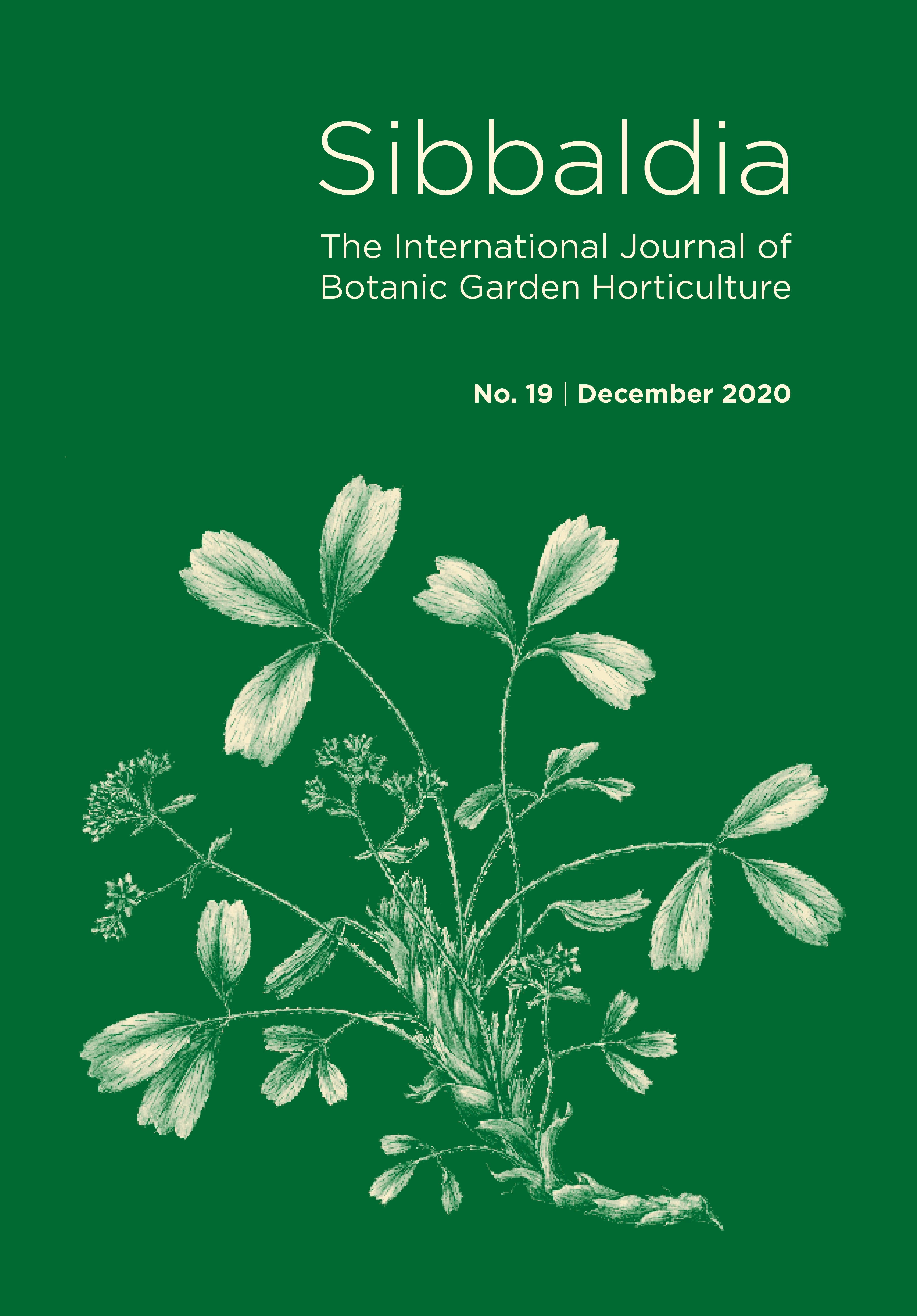 How to Cite
Sanchez-Ganfornina, D., Tapson, J., Sutherland, L., & Coleman, M. (2020). Recreation of the Edinburgh Potato Solanum × edinense Berthault. Sibbaldia: The International Journal of Botanic Garden Horticulture, (19). https://doi.org/10.24823/Sibbaldia.2020.302