The Gardens of Singapore
Enthusing and Educating the Public in the World of Plants
Stuart Lindsay

National Parks Board, Singapore

David Middleton

Singapore Botanic Gardens
Abstract
Singapore has several public gardens of which two, Singapore Botanic Gardens and Gardens by the Bay, are of particular national and international renown. These two gardens have contrasting but complementary ways of enthusing and educating the public about plants and of gaining their support for horticultural excellence, botanical research and conservation. Founded in 1859, Singapore Botanic Gardens is an old and established garden with a long history of horticultural and botanical research, plant exploration and conservation. It became a UNESCO World Heritage Site in July 2015, the world's first tropical botanic garden to receive this accolade. Gardens by the Bay opened in 2012 and its focus is on large-scale displays in spectacular settings, thereby attracting huge numbers of visitors since its opening. In their contrasting ways, both gardens enthuse and educate the public about plants and the natural world. This work lays the foundations for public advocacy of conservation efforts in Singapore, resulting in a very high level of public support for greening efforts and the protection of natural areas in land-scarce Singapore.
References
CHONG, K.Y., LEE, S.M.L., GWEE, A.T., LEONG, P.K.F., SAMSURI, A., ANG, W.F., LOK, A.F.S.L., YEO, C.K., CORLETT, R.T. & TAN, H.T.W. (2012). Herbarium records do not predict rediscovery of presumed nationally extinct species. Biodiversity and Conservation, 21: 2589–2599.
CHONG, K.Y., TAN, H.T.W. & CORLETT, R.T. (2009). A Checklist of the Total Vascular Plant Flora of Singapore: Native, Naturalised and Cultivated Species. Raffles Museum of Biodiversity Research, National University of Singapore, Singapore.
DAVISON, G.W.H., NG, P.K.L. & HO, H.C.C. (eds) (2008). The Singapore Red Data Book: Threatened Plants and Animals of Singapore (2nd edn). The Nature Society (Singapore), Singapore.
IPNI (2016). The International Plant Names Index. Available online: www.ipni.org (accessed 23 November 2016).
IUCN STANDARDS AND PETITIONS SUBCOMMITTEE (2016). Guidelines for Using the IUCN Red List Categories and Criteria. Version 12. Prepared by the Standards and Petitions Subcommittee. Available online: www.iucnredlist.org/documents/RedListGuidelines.pdf (accessed 22 November 2016).
LEONG-ŠKORNIČKOVÁ, J. & KIEW, R. (2016). Hanguana fraseriana (Hanguanaceae), a new species from Peninsular Malaysia. Gardens' Bulletin Singapore, 68: 209–214.
MIDDLETON, D.J. (2016). A revision of Aeschynanthus (Gesneriaceae) in Singapore and Peninsular Malaysia. Gardens' Bulletin Singapore, 68: 1–63.
NIISSALO, M.A., LEONG-ŠKORNIČKOVÁ, J., KHEW, G.S. & WEBB, E.L. (2017). Very small, relict populations suggest high extinction debt of gingers in primary forest fragments of a tropical city. American Journal of Botany, 104(1): 182–189.
PUGLISI, C., MILNE, R., MÖLLER, M. & MIDDLETON, D.J. (2016). A phylogenetic study of the Loxocarpinae (Gesneriaceae). Taxon, 65: 277–292.
RODDA, M. & SIMONSSON JUHONEWE, S. (2016). Hoya isabelchanae Rodda & Simonsson, a new, showy species of Hoya R.Br. (Apocynaceae, Asclepiadoideae) with pomegranate red flowers from Sulawesi, Indonesia. PhytoKeys, 68: 45–50.
UNITED NATIONS, DEPARTMENT OF ECONOMIC AND SOCIAL AFFAIRS, POPULATION DIVISION (2013). World Population Prospects (2012 revision), New York. Available online: http://data.un.org/Data.aspx?d=PopDiv&f=variableID%3a14#PopDiv (accessed 21 November 2016).
VAN STEENIS-KRUSEMAN, M.J. (1950). Malaysian plant collectors and collections. In: VAN STEENIS, C.G.G.J. (ed.) Flora Malesiana ser. I, vol. 1. Noordhoff-Kolff N.V., Djakarta.
WEE, Y.C. & CORLETT, R.T. (1986). The City and the Forest: Plant Life in Urban Singapore. Singapore University Press, Singapore.
WONG, K.M. (2016). The Genus Melastoma in Borneo, Including 31 New Species. Natural History Publications (Borneo) in association with National Parks Board Singapore.
YAM, T.W. (2013). Native Orchids of Singapore: Diversity, Identification and Conservation. National Parks Board Singapore.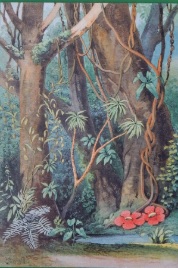 How to Cite
Lindsay, S., & Middleton, D. (2018). The Gardens of Singapore . Sibbaldia: The International Journal of Botanic Garden Horticulture, (16), 169-177. https://doi.org/10.24823/Sibbaldia.2018.254
Copyright (c) 2018 Stuart Lindsay, David Middleton
This work is licensed under a Creative Commons Attribution 4.0 International License.
Please read our Open Access, Copyright and Permissions policies for more information.