Tree Demography Plots
A Neglected Resource for Systematic and Conservation Research
Peter Ashton

Harvard University
Abstract
The pantropical network of large tree demography plots coordinated by the Smithsonian's Center for Tropical Forest Science has now gone global, as part of the Smithsonian Institution Global Earth Observatories. Some four million tropical trees, representing about 10,000 species, are now tagged, provisionally identified and periodically recensused. Some 3,000 species are captured in the six plots within Malesia. These include species rarely collected and many that are now endangered. Easy location of trees for periodic examination for fertile material and detailed ecological data, together with seasoned in-country research teams, provide unique opportunities for research collaboration.
References
ASHTON, P.S. (2014). On the Forests of Tropical Asia, Lest the Memory Fade. Royal Botanic Gardens, Kew and Arnold Arboretum, Harvard University.
BAKER, T.R., PENNINGTON, R.T., DEXTER, K.G., FINE, P.V.A., FORTUNE-HOPKINS, H., HONORARIO, E.N., HUAMANTUPA-CHUQUIMACO, I., KLITGÅRD, B.B., LEWIS, G.P., DE LIMA, H.C., ASHTON, P., BARALOTO, C., DAVIES, S., DONOGHUE, M.J., KAYE, M., KRESS, W.J., LEHMANN, C.E.R., MONTEAGUDO, A., PHILLIPS, O.L. & VASQUEZ, R. (2017). Maximizing energy among tropical plant systematists, ecologists, and evolutionary biologists. Opinion. Trends in Ecology and Evolution, 32(4): 258–267.
CORNER, E.J.H. (1954). The evolution of the tropical forest. In: HUXLEY, J.S., HARDY, A.C. & FORD, E.B. Evolution as a Process. Allen & Unwin, London, pp. 34–46.
KAMIYA, K., GAN, Y.Y., LUM, K.Y., KHOO, M.S., CHUA, S.C. & FAIZU, N.H. (2011). Morphological and molecular evidence of natural hybridization in Shorea (Dipterocarpaceae). Tree Genetics & Genomes, 7: 297–306.
LEE, H.S., ASHTON, P.S., YAMAKURA, T., TAN, S., DAVIES, S.J., ITOH, A., CHAI, E.O.K., OHKUBO, T. & LAFRANKIE, J.V. (2002). The 52-hectare Forest Research Plot at Lambir Hills, Sarawak, Malaysia. Sarawak Forest Department, Arnold Arboretum, Harvard University, and Smithsonian Tropical Research Institute.
POTTS, M.D., ASHTON, P.S., KAUFMAN, L.S. & PLOTKIN, J.B. (2002). Habitat patterns in tropical rain forests: a comparison of 105 plots in northwest Borneo. Ecology, 83(10): 2782–2797.
SLIK, F. & 174 others (2015). An estimate of the number of tropical tree species. Proceedings of the National Academy of Sciences of the USA, 112: 7472–7477.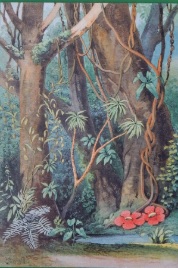 How to Cite
Ashton, P. (2018). Tree Demography Plots . Sibbaldia: The International Journal of Botanic Garden Horticulture, (16), 9-21. https://doi.org/10.24823/Sibbaldia.2018.244
Copyright (c) 2018 Peter Ashton
This work is licensed under a Creative Commons Attribution 4.0 International License.
Please read our Open Access, Copyright and Permissions policies for more information.