Recent Taxonomic Notes and New Distribution Localities of Podocarpus Pers. Species in the Philippines
Florence Roy P Salvaña

University of Southern Mindanao

Willian Sm Gruezo

Annalee S Hadsall
Abstract
The taxonomy of plants provides a great contribution to understanding diversity and conservation. This study provides additional taxonomic notes on Podocarpus species in the Philippines using newly collected specimens to determine new distribution localities of these species. This study recognises ten species of Podocarpus in the Philippines. Notable results of this study are: (1) the existence of variable leaf forms in P. pilgeri Foxw. correlated to the type of habitat where the species occurs; (2) variable leaf forms and sizes observed in mature and juvenile leaves of all species; (3) support of the sectional arrangement of P. palawanensis de Laub. & Silba; (4) differences between the wild and cultivated representatives of P. costalis C.Presl based on leaf characters; (5) new distributions for P. ramosii R.R.Mill, P. pilgeri, P. costalis, P. neriifolius D.Don, P. rumphii Blume and P. polystachyus R.Br.; (5) no support for the inclusion of P. neglectus Blume and P. hookeri de Laub. as new species found in the Philippines; and (6) comprehensive examination and identification of numerous herbarium specimens and recently collected material.


References
BIFFIN, E., CONRAN, J.G. & LOWE, A.J. (2011). Podocarp evolution: a molecular phylogenetic perspective. In TURNER, B.J. & CERNUSAK, L.A. (eds) Ecology of the Podocarpaceae in tropical forests (ed. by), pp. 1–20. Smithsonian Contributions to Botany, No. 95. Smithsonian Institution Scholarly Press, Washington, DC.
BOCHARNIKOVA, A.D. (1960). Atlas of Upper Cretaceous, Paleocene and Eocene Spore-Pollen Complexes of several regions of the U.S.S.R. [in Russian]. Trans. All-Soviet Sci.-Res. Inst. Minist. Geol. & Petr. Conserv. U.S.S.R. n.s., 30. Leningrad. [Original not seen; facsimiles of new description by Bocharnikova (1960) are reproduced in Kremp et al., Cat. Fossil Spores Pollen, 16 (1962).]
DE LAUBENFELS, D.J. (1978). The taxonomy of Philippine Coniferae and Taxaceae. Philippine Journal of Biology, 7(2): 117–152.
DE LAUBENFELS, D.J. (1985). A taxonomic revision of the genus Podocarpus. Blumea 30: 251–278.
DE LAUBENFELS, D.J. (1988). Series 1 – Spermatophyta – Revisions – Coniferales. Flora Malesiana, 10(3): 395–419.
DE LAUBENFELS, D.J. (2015). New sections and species of Podocarpus based on the taxonomic status of P. neriifolius (Podocarpaceae) in Tropical Asia. Novon: A Journal for Botanical Nomenclature, 24(2): 133–152.
DE LAUBENFELS, D.J. & SILBA, J. (1988). Notes on Asian-Pacific Podocarpaceae: 1 (Podocarpus). Phytologia, 64: 290–292.
FOXWORTHY, F.W. (1911). Philippine gymnosperms. Philippine Journal of Science, 6: 149–178.
GASCON, C.N., GARCIA, R.C., BELTRAN, F.N., FALLER, W.C. & AGUDILLA, M.A.R. (2013). Biodiversity assessment of Mt Banahaw de Dolores, Philippines. Asian Journal of Biodiversity, 295: 23–45.
KNOPF, P., SCHULZ, C., LITTLE, D.P., STÜTZEL, T. & STEVENSON, D.W. (2012). Relationships within Podocarpaceae based on DNA sequence, anatomical, morphological and biogeographical data. Cladistics, 28: 271–299.
MERRILL, E.D. (1923). An Enumeration of Philippine Flowering Plants. Philippine Bureau of Science, no. 18. Bureau of Printing, Manila.
MILL, R.R. (2002). Proposal to conserve Podocarpus rotundus de Laub. (recent Podocarpaceae) over Podocarpus rotundus Bocharn. (fossil Podocarpaceae). Taxon, 51:185–186.
MILL, R.R. (2006). A new name for Podocarpus rotundus de Laub. (Podocarpaceae). Edinburgh Journal of Botany, 63(1): 81–83.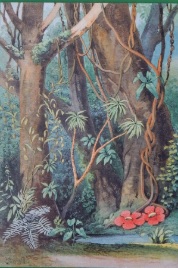 How to Cite
Salvaña, F. R. P., Gruezo, W. S., & Hadsall, A. S. (2018). Recent Taxonomic Notes and New Distribution Localities of Podocarpus Pers. Species in the Philippines. Sibbaldia: The International Journal of Botanic Garden Horticulture, (16), 99-120. https://doi.org/10.24823/Sibbaldia.2018.250
Copyright (c) 2018 Florence Roy P Salvaña, Willian Sm Gruezo, Annalee S Hadsall
This work is licensed under a Creative Commons Attribution 4.0 International License.
Please read our Open Access, Copyright and Permissions policies for more information.